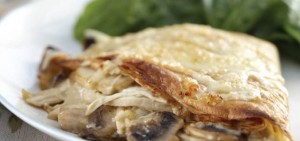 Almost any mixture of cooked vegetables, fish or chicken, and herbs or nuts, moistened with a little white sauce, cream or cream cheese, can be used as a thin pancake or crêpe filling. This recipe would be delicious with buckwheat pancakes and of course you can make your own – just replace half the plain flour with buckwheat flour.
Ingredients:
4 tbsp (2oz) Kerrygold Salted Butter, extra to grease
3 cups (8oz) button mushrooms, sliced
2 tbsp plain flour
1 cup (8fl oz) chicken stock (from a stock cube is fine)
4 tbsp cream
12 thin savory pancakes or crêpes (shop-bought)
2 cups (12oz) boneless cooked chicken, any skin removed and shredded
1 cup (4oz) Kerrygold Dubliner cheese, grated
salt and freshly ground black pepper
spinach salad, to serve
Method:
1. Preheat the oven to 190°C (375°F), Gas mark 5. Melt the butter in a heavy-based pan, then add the mushrooms and cook for 2-3 minutes.
2. Stir in the flour and cook, stirring for 1 minute, then pour in the stock. Bring to the boil, stirring and then simmer for 2-3 minutes.
3. Stir the cream into the mushroom sauce and allow to warm through and then fold in the chicken. Season to taste.
4. Spoon some of this mixture onto a quarter of each pancake or crêpe. Fold in half, and then in half again to form neat pockets.
5. Arrange the filled pancakes in a buttered ovenproof dish, just large enough to hold them and sprinkle with the cheese.
6. Bake for 15-20 minutes until bubbling and golden brown.
7. Serve the pancakes straight to the table with a separate bowl of spinach salad and allow everyone to help themselves.
Source: Kerrygold