A perfectly glazed ham always looks stunning!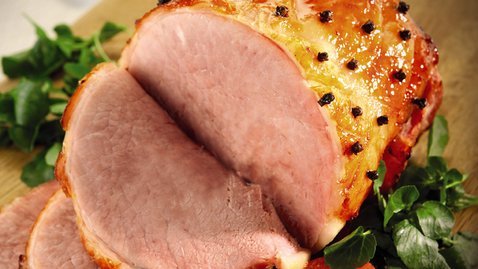 Ingredients:
Imported Irish Ham
6 cloves
1 onion, peeled and halved
Orange Juice
2 bay leaves
Glaze:
80g Soft Brown Sugar
2 Oranges, zest and juice
2 tblsp Honey
2 tblsp Wholegrain Mustard
Method:
1. Place the ham in a large deep saucepan and boil in water. After 5 minutes remove from the heat and drain.
2. Place the ham back in the saucepan and pour the orange juice over until it covers half the joint.
3. Pour fresh cold water over the joint to fill the pan completely.
4. Insert two or three cloves into the halved onions and add to the pan along with the bay leaves.
5. Place the lid onto the saucepan and simmer for 1 hour, adding water if required.
6. Pre-heat the oven to 180 °C / 212 ° F / gas Mark 4. Place the ham in a roasting dish. Keep the bay leaves with the ham.
7. Score the ham in a criss-cross pattern and push in cloves and dot them around.
8. For the Glaze: Mix together the honey, sugar, orange zest and juice, and mustard in a bowl.
9. Spoon the glaze over the ham and place in the oven. Keep basting the ham in its juices and the glaze for around 20 minutes until brown all over.
10. Serve as hot or cold slices.