Whiskey Baked Ham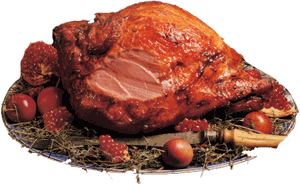 Ingredients:
4lbs (2 kg) Irish ham
1 large onion, cut in half
2 carrots washed and scraped
2 small bayleaves
3-4 cloves
4 peppercorns
1 tablespoon brown sugar
1/2 wine glass cider vinegar
cloves
Whiskey Glaze
5 tablespoons Irish Whiskey
6 level tablespoons brown sugar
2 1/2 level tablespoons colmans mustard
Method:
1. Place the ham, skin side down, in a large saucepan and cover completely with cold water.
2. Bring very slowly to the boil, discard the water and cover once again with fresh water.
3. Add the onion, carrots, bayleaves, cloves, peppercorns, sugar and vinegar. Bring back slowly to the boil and as soon as boiling point is reached, reduce to simmering.
4. Cover and simmer until the ham is cooked.
5. Remove the ham from the water and leave to cool a little.
6. Strip the rind and score the fat in diamonds. Place a clove in each diamond and place the ham on a rack in a small roasting tin.
7. Brush the ham all over with whiskey.
8. Mix the sugar, mustard and remaining whiskey together and spread on scored fat.
9. Bake in the pre-heated oven for 20-30 minutes, basting twice or three times during cooking, until the glaze is golden brown. Leave to relax for a while before carving.
Cooking time: 25-30 minutes per lb/450g
Oven temperature: Pre-heat to gas mark 6/400F/200C
Our ham (or gammon) has a thin covering of fat, which glazes well.
You may want to tie the ham to form a round shape which looks better and
is easier for carving.