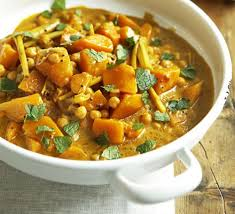 A hearthy fall meal!
Ingredients
1 cup red lentils
1 cup brown lentils
8 cups water
1 tablespoon canola oil
1 onion, peeled and diced
2 tomatoes, cored and diced
3 cloves garlic, crushed
2 tablespoons curry powder
2 teaspoons ground cumin
0.5 teaspoon salt
0.5 teaspoon pepper
2 cups peeled, cubed pumpkin
2 potatoes, peeled and chopped
2 carots, peeled and diced
2 cups fresh spinach, chopped
1 Granny Smith apple, unpeeled, cored and diced
Method
Place the red and brown lentils in a pan with the water.
Cook over medium-low heat until tender, about 45 minutes. Drain, reserving 2 cups of the cooking liquid.
Meanwhile, heat the canola oil in a large, deep pot over medium heat.
Stir in the onion, and cook until tender and transparent, about 5 minutes.
Stir in the tomatoes and garlic; cook 5 minutes more, stirring occasionally.
Mix in the curry powder, cumin, salt and pepper.
Add the cooked lentils, reserved cooking liquid, pumpkin, potatoes, and carrots.
Cover, and cook over medium-low heat until the vegetables are tender, 35 to 45 minutes.
Stir in the spinach and apple. Cook until the pumpkin can be easily pierced with a fork, about 15 minutes more.
Adjust seasonings to taste.