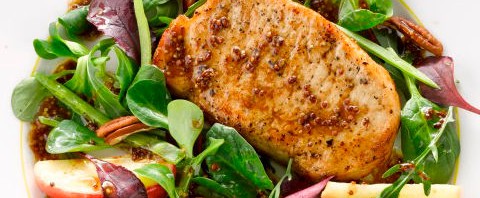 Pork Chops with Apple and Pecan Salad
The pecans and sliced mange tout add a nice crunch to this dish. If you prefer you could use peaches or nectarines instead of apples.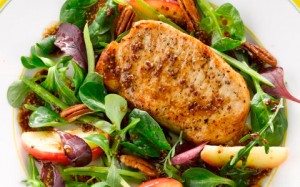 Ingredients:
4 pork chops, trimmed
1 tablesp. rapeseed or olive oil
Salt and freshly ground black pepper
A knob of butter
2 eating apples, cored and each apple cut into 8 wedges
A handful of pecans, split down the centre
120g bag of salad leaves
100g mange tout, thinly sliced lengthways
Dressing:
1 tablesp. sherry vinegar
1 teasp. wholegrain mustard
2 tablesp. olive oil
Method:
Heat a little oil in a large frying pan. Season the chops with a little salt and black pepper. Add to the pan and cook for 3-4 minutes on each side. Remove from the pan and keep warm. Wipe out the pan with a piece of kitchen paper. Put the pan back on the heat and add a knob of butter over a medium heat. Add the apple wedges to the pan and cook gently for a couple of minutes.
Combine the dressing ingredients in a small bowl then add them to the pan to heat up. Season with a little salt and black pepper.
Divide the leaves and sliced mange tout between four plates. Place a chop on top, add the apples and spoon over the dressing from the pan. Sprinkle over the pecan nuts and serve.
Serves 4
Source: Bord Bia