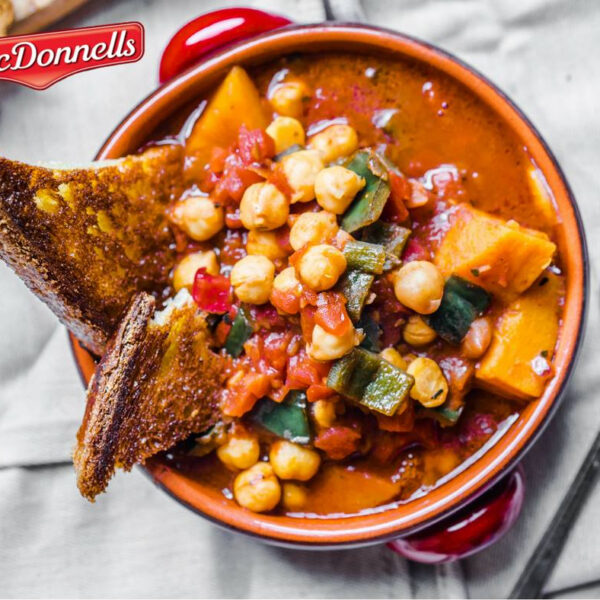 McDonnells Vegetable Curry
Ingredients:
180g of McDonnells Curry Mix
900ml of cold water
Low cal spray oil, for frying
1 Large onion, chopped
2 Small Butternut Squash, cut into cubes
1 Fresh birds eye chilli, chopped
1 Small cauliflower broken into florets
1 Red pepper diced
1 Yellow pepper diced
80g Broccoli florets
2 Courgettes, sliced
65g French beans, cut in half
80g Carrots, peeled and cut into batons
50g Celery, sliced
100g Chickpeas, tinned
50g Fat free natural yogurt (optional)
Fresh coriander to garnish, chopped (optional)
Method:
1. Spray a wok or deep pan frying pan with oil. Place over a medium heat.
2. Fry your onions and chilies for 5 mins.
3. Add your other prepared vegetable gradually, and stir together. Remove from the heat.
4. Place your McDonnells Curry Powder in a separate saucepan, add in 900ml of water and bring to the boil. Simmer for 5 mins.
5. Add your vegetables and the chickpeas to the pot of sauce and simmer further for 15-20 minutes – depending on how much crunch you like!
6. If you so choose – the addition of fat free natural yogurt will give your curry a marvelously creamy texture. But it's just as delicious without!
6. Serve sprinkled with freshly chopped coriander and 240g Basmati rice.
Source: McDonnells