Madeira cake is a great afternoon treat. You might also like to add a little of the orange or lemon rind or a mixture of both into the cake mixture, or some chopped nuts would work well. Remember to keep any leftovers for a trifle.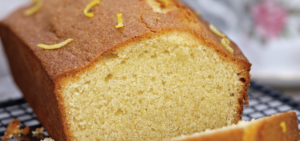 Ingredients:
1 cup plus 2 tbsp (7oz) self-raising flour
12 tbsp (6oz) Kerrygold Salted Butter, at room temperature, extra for greasing
¾ cup plus 2 tbsp (6oz) caster sugar
3 eggs
2 tbsp ground almonds or fine polenta
1 tsp vanilla extract
1 tbsp milk
finely grated lemon rind, to decorate (optional)
Method:
1. Preheat the oven to 350°F (180°C), Gas mark 4. Sift the flour into a bowl and set aside until needed.
2. Cut the butter into small cubes into the bowl of a food processor. Add the sugar and process until it turns into a pale cream.
3. With the motor running, add one egg with a tablespoon of the sifted flour to stop the egg curdling, then add the other two eggs.
4. When the eggs are incorporated, add the almonds or polenta and whizz again.
5. Take the lid off the processor and add the rest of the sifted flour with the vanilla extract and milk.
6. Whizz again until you have a smooth cake mixture, scraping the sides of the bowl with a spatula if you need to.
7. Pour the cake mixture into a greased 8in (20cm) non-stick loaf tin that is about 4in (16cm) deep, levelling off the top.
8. Bake in the lower middle shelf of the oven, checking it after 45 minutes. Check and see if a skewer comes out clean.
9. If not, cook it for another 5-10 minutes until it is cooked through. This will depend on your oven and the size of the tin you use.
10. Leave to cool in the tin for 10 minutes, before turning it out on to a wire rack to cool completely.
11. To serve, decorate the Madeira cake with lemon rind, if desired, and cut into slices.
12. Arrange on a large plate and put on the table so guests can help themselves.
Source: Kerrygold