This hearty soup is a great way of making use of your leftover ham. Not only is it quick but it's also so easy. Throw in whatever beans you have in the press (cannellini, haricot, kidney) and you're sure to have the perfect bowl of comfort food.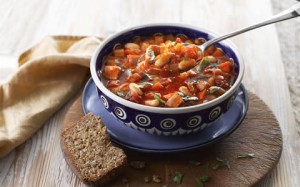 Ingredients:

250g leftover ham cut into cubes
1 tablesp. rapeseed oil
1 large onion, peeled and finely chopped
2 carrots, peeled and chopped
2 sticks celery, chopped
2 leeks, washed and chopped
2 clove garlic, peeled and chopped
1 heaped teasp. smoked paprika
½ teasp. sugar
1 x 400g can chopped plum tomatoes
1 tablesp. tomato purée
700ml stock reserved from cooking the fillet of ham, or water
1 bay leaf
1 x 400g tin Cannellini beans drained and rinsed
Freshly ground black pepper
To Serve: Grated cheese, chopped basil and wholemeal bread
Method:
1. Heat the oil in a large saucepan over a medium heat, then add the onion, carrots, celery, leek and garlic and cook slowly for about 15 minutes, stirring now and then, until the vegetables are softened.
2. Stir in the paprika and sugar and cook for another two minutes.
3. Add the tomatoes, tomato purée, stock or water and a bay leaf, then cover with a lid and bring slowly to the boil.
4. Simmer for about 30 minutes, then add the ham pieces and cannellini beans, cook for another 10 minutes, check seasoning.
5. If the soup is too thick, thin it with a little more stock or water.
6. Serve with the grated cheese, basil and wholemeal bread.
Source: Bord Bia