Farmhouse Cheddar Cheese Biscuits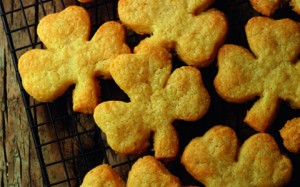 Ingredients:
300g mature Irish farmhouse cheddar cheese, finely grated
200g plain flour
½ teasp. cayenne pepper
Salt and freshly ground black pepper
200g butter, diced
2 free-range egg yolks
Method:
1. Preheat the oven to Gas Mark 5, 180ºC (350ºF).
2. Lightly grease 2-3 baking sheets with butter and line with non-stick baking paper.
3. Mix the grated cheese, flour, cayenne pepper, ½ teaspoon salt and some black pepper together in a large mixing bowl.
4. Add the butter and rub together until the mixture looks like fine breadcrumbs.
5. Stir in the egg yolks with a kitchen knife until the mixture comes together in a ball.
6. Tip out onto a work surface and knead briefly until smooth. Roll out on a lightly floured surface to 5mm thick.
7. Using a shamrock-shaped biscuit cutter, cut out the biscuits and place them spaced a little apart on the prepared baking sheets. 8. Re-knead and roll the trimmings once or twice to make more biscuits. Chill for at least 30 minutes.
9. Bake for approximately 10 minutes or until richly golden around the edges.
10. Remove and leave to cool on the baking tray. Store in an airtight tin once cold.
Source: Bord Bia