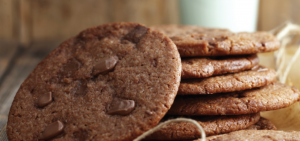 Ingredients:
20 tbsp (10oz) Kerrygold Salted Butter, at room temperature
1 ½ cups (11oz) light brown sugar
1 cup (7oz) granulated sugar
2 large eggs
1 tsp vanilla extract
2 2/3 cups (1lb) plain flour
2 tbsp cocoa powder
2 tsp baking powder
2 cups (11oz) milk chocolate, cut into chunks
Method:
1. Place the butter and sugars in a freestanding mixer or a bowl using a hand-held electric mixer and beat until light and fluffy.
2. Break in the eggs, one at a time and then add the vanilla extract.
3. Sift in the flour, cocoa powder and baking powder and then using a large metal spoon fold them in until well combined.
4. Add the chocolate and mix again until just combined.
5. Bring the dough together and split in half. Place each half on a piece of clingfilm and roll up to form a thick sausage shape, twisting the ends to secure.
6. Place in the fridge overnight to rest and firm up.
7. To bake, preheat the oven to 350°F (180°C), Gas mark 4. Unwrap each piece of dough and cut each one into 12 even slices.
8. Arrange on parchment lined large baking sheets well spaced apart and bake for 10-12 minutes or until golden brown and slightly pale in the centre.
9. Leave the cookies to cool for a couple of minutes on the baking sheets and then transfer to a wire rack and set aside until cool.
10. To serve, arrange the double chocolate chip cookies on a large plate and hand around to guests.
Source: Kerrygold