Creamy Turkey Pumpkin Chili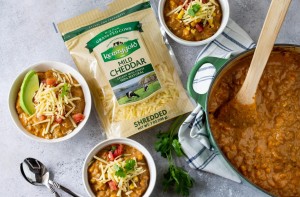 Ingredients:
1 tablespoon canola oil
1 small onion, diced
2 cloves garlic, minced
1 pound ground turkey
1 (15-oz) can diced tomatoes with green chiles
1 (15-oz) can pumpkin puree
1 (4-oz) can diced green chiles
2 tablespoons chili powder
1/2 teaspoon cayenne pepper
1 teaspoon dried oregano
2 – 3 tablespoons cumin (depending on how much cumin you like)
1 teaspoon ground pepper
2 chipotle peppers in adobo sauce, chopped
Salt to taste
2 cups chicken broth
1 1/2 cups frozen corn
4 ounces cream cheese
1 cup Kerrygold Mild Shredded Cheddar Cheese
Method:
1. In a large dutch oven, cook onion and garlic in canola oil over medium heat until translucent.
2. Add turkey and cook until meat is no longer pink. Stir in tomatoes, pumpkin, green chiles, spices, chipotle peppers and chicken broth.
3. Adjust seasonings if necessary (adding more chili powder or cumin to suit your taste).
4. Cook on medium for 15 minutes to let flavors develop.
5. Add corn and cook for an additional 15 minutes.
6. Add cream cheese and stir until melted.
7. Add Kerrygold® Shredded Mild Cheddar and stir until melted.
8. Top with desired toppings and serve.
Recipe Notes
This can also be made in a crock pot. After step one, put cooked meat, garlic and onions in a slow cooker and add remaining ingredients. Cook on low for 8 hours
Wait to stir in cheese until right before serving.
Source: Kerrygold