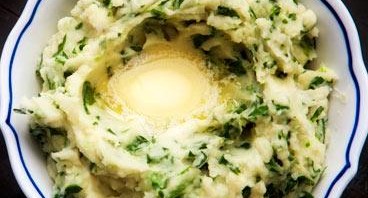 Colcannon – Cál Ceannann
Colcannon is a traditional Irish Halloween dish. In Irish it's known as cál ceannann meaning white-headed cabbage.
There are some old traditions which revolve around colcannon:
~ Many years ago young Irish girls were blindfolded and sent to the garden at Halloween to pick a cabbage. A ring was then hidden in the colcannon which was made with the picked cabbage. Whoever found the ring on their plate was next to marry.
~ Another old tradition involved unmarried women putting the first and last bite of colcannon into a stocking and hanging it on their front door. The next unmarried man to grace that door was said to be her intended husband.
~ Other traditions include hiding a button, a thimble, a coin and a ring in the colcannon. If you found a button it meant you would remain a bachelor and a thimble meant you would remain a spinster for the coming year. A coin meant you would come into wealth and a ring meant you would get married.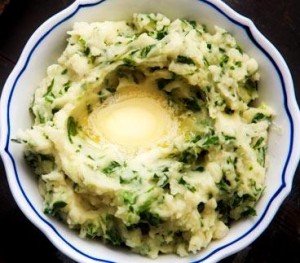 Ingredients:
1kg potatoes, peeled, roosters work well
250g curly kale, well washed and finely sliced, discard any thick stalks
100mls milk
100g Kerrygold Irish Butter
Salt and freshly ground black pepper
Method:
1. Cook the potatoes in a covered pan of boiling salted water for 15-20 minutes until tender.
2. Meanwhile, cook the kale. Heat a knob of butter and two tablespoons of water in a heavy-based pan with a lid.
3. When the butter has melted and formed an emulsion, add the kale with a pinch of salt.
4. Cover, shake well and cook over a high heat for 1 minute. Shake the pan again and cook for another minute.
5. Drain off any liquid and then season the kale with pepper.
6. Drain the potatoes, add in the milk and mash until smooth, then beat in the kale and the remaining butter. Season to taste with salt and pepper.
Note:
If curly kale is not available you can use finely chopped scallions which you add into the potatoes with the milk. Savoy cabbage also works well – use the same method as for the kale.