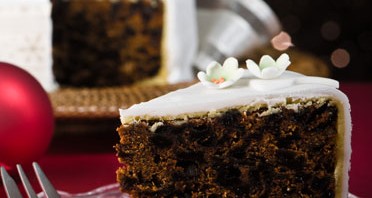 Christmas Cake
Dense, rich Christmas cakes are ideally made months ahead and left to ripen for maximum flavour. Stored correctly, they can last all year.
Ingredients:
•225g/8oz Odlums Cream Plain Flour (sieved)
•175g/6oz Margarine
•225g/8oz Dark Brown Sugar
•375g Sultanas (one packet)
•375g Fruit Mix (one packet)
•100g Cherries (one Tub)
•100g Chopped Mixed Nuts (one packet)
•100g Ground Almonds (one packet)
•3 Large Eggs
•Rind and Juice of one Orange
•1 teaspoon Mixed Spice
•2 baby bottles of Brandy
Method:
1. Put margarine, sugar, fruit, rind, juice and one baby bottle of the brandy into a large saucepan.
2. Slowly bring to the boil, stirring occasionally, until the margarine has melted.
3. Turn off heat and leave to cool for approx. 30 minutes.
4. Meanwhile pre-heat oven to 140°C/275°F/Gas 1 and line an 8"/20cm round deep cake tin with greaseproof paper.
5. Stir the eggs, nuts and ground almonds into the fruit mixture and mix well.
6. Finally, stir in the sieved flour and mixed spice.
7. Spoon the mixture into the tin and smooth it out evenly – the back of a metal spoon dipped in water is handy for this!
8. Bake for 2½ – 3 hours approx. After 2 hours, cover with paper if cake is browning too quickly.
9. To check the cake is done, insert a skewer into the centre- if it comes out clean, the cake is cooked.
10. Make holes in top of warm cake and pour over remaining brandy.
11. Leave cake in tin to cool completely.
12. When cold, wrap in greaseproof paper and then tinfoil. Store in a cool dry place.
Ready Made Almond Paste:
2 x 250g packets of Marzipan will completely cover a 20cm/8″ cake
1 x 250g packet of Marzipan sufficient for :
1.Just the top of the cake
2.For the cake baked in a 2lb loaf tin
3.A 15cm/6″ round cake.
White Icing
2 x Ready To Use Royal Icing 454g (16oz)
Above will completely cover a 20cm/8″ cake. One packet will do top of cake or 2lb loaf tin cake or 15cm/6″ round cake.
Note:
This cake mixture can be divided between two 900g/2lb lined loaf tins or two 15cms/6" round cake tins or a combination of both and will bake in about 1¼ hours at the same temperature. This is ideal for those who just want a small cake and the second cake would make a very acceptable Christmas present!
Source: Odlums