Chocolate Pudding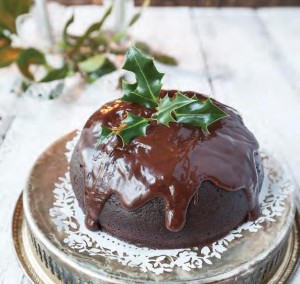 Ingredients:
For the pudding:
125g/4oz Butter, softened
125g/4oz Caster Sugar
2 large Eggs, beaten
125g/4oz Odlums Self-Raising Flour
15ml/1 tbsp Cocoa Powder
125g /4oz Plain Chocolate, melted
50g Shamrock Pecan Nuts , chopped
15ml/1 tbsp Milk
For the sauce:
125g/4oz Plain Chocolate, broken into pieces
25g/1oz Butter
30ml/2 tbsp Golden Syrup
Method:
1. Preheat the oven to 150°C/300°F/gas mark 2. Butter and line the base of a 600ml/1pt pudding bowl with a circle of greaseproof paper.
2. Place the butter and sugar in a large bowl and beat until pale and creamy. Gradually beat in the eggs, a little at a time.
3. Add a spoonful of flour if the mixture begins to curdle.
4. Sift together the flour and cocoa powder and fold into the mixture with the melted chocolate, chopped pecans and milk.
5. Spoon the mixture into the bowl and cover with a round of greased and pleated greaseproof paper tied securely with fine string.
6. Cover with pleated foil.
7. Steam for 1½ hours (see directions to the side) until the pudding is risen and firm, and a skewer inserted into the centre comes out clean.
8. For the chocolate sauce, place all of the ingredients in a heatproof bowl and set this over a pan of simmering water.
9. Leave until melted, then remove from the heat and stir until smooth.
10. Turn the pudding out on to a plate. Pour over some of the chocolate sauce and decorate as desired.
11. Serve the remaining sauce on the side.
To Steam
• Put two long strips of tin foil cross-wise on your work top.
• Place a roasting tin onto the foil. Sit the pudding bowl into the tin and fill with boiling water to within 2cm/1in of the top of the tin.
• Bring the tin foil around to form a parcel, gathering at the top and securing with string. This should be airtight to prevent any steam escaping.
• Place in an oven preheated to 150°C/300°F/gas mark 2 for the specified time. There is no need to top up with water during cooking.
Source: Odlums