Cheesy Baked Spaghetti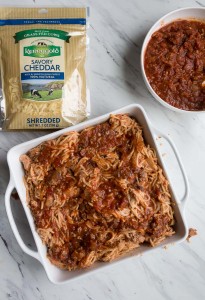 Ingredients:
12 ounces spaghetti noodles
1 pound spicy sausage
1 jar (~4 cups) of your favorite pasta sauce
4 ounces cream cheese, at room temperature
1/2 cup ricotta cheese, at room temperature
1/2 cup Kerrygold Savory Shredded Cheddar Cheese
Method:
1. First, bring a large pot of salted water to a boil. Cook the spaghetti according to package directions.
2. Have the cream cheese and ricotta ready in a large bowl near the stove.
3. Meanwhile, preheat the oven the oven to 350ºF.
4. In a small skillet, cook the sausage until golden brown; crumble it with a spatula while it cooks. Stir in the pasta sauce, turn off the heat and set aside.
5. When the pasta is done cooking, drain the noodles and then immediately add it to the bowl with the cream cheese and ricotta.
6. Toss the noodles very well with tongs for a few minutes until they're evenly coated with the cheese.
7. Next, stir in 2 cups of the pasta sauce with the sausage, and half of the shredded cheddar.
8. Scrape the mixture into a 8×8" square baking dish, and top with the remaining shredded cheddar.
9. Bake for 20 minutes, until bubbly and the cheese on top is melted.
10. Serve with extra pasta sauce for topping.
Source: Kerrygold USA