Cheddar and Thyme Scones with Tomato Jam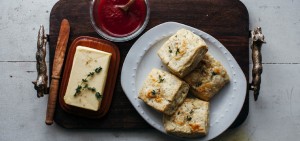 Ingredients:
Scones:
2 cups flour
1tablespoon baking powder
1 teaspoon dried thyme
1/2 teaspoon salt
black pepper
1 tablespoon sugar
5 oz. shredded Kerrygold Reserve Cheddar
1/2 cup Kerrygold Unsalted Butter, chilled and cubed
1 small onion, finely chopped
1 large egg
1/2 cup heavy cream
Tomato Jam:
2 lb. roma (plum) tomatoes, cored and roughly chopped
1/2 cup sugar
1 teaspoon kosher salt
Pinch of crushed red pepper
Black pepper
1 teaspoon lemon juice
Method:
1. Preheat the oven to 400ºF and line two baking sheets with parchment.
2. In a food processor, combine the flour, baking powder, thyme, salt, a few turns of pepper, and the sugar. Add the cheese (setting aside 1/2 cup for the topping) and butter to the food processor and pulse until the butter is pea-sized.
3. Add the mixture to a large bowl and mix in the onion. In a small bowl, whisk together the egg and heavy cream. Add to the dry mixture and mix to combine.
4. Turn the dough onto a surface (you may need to give it a few kneads to bring those last few crumbs in) and pat it out into a square that is 1 inch thick. Cut the large square into 9 smaller squares and place the scones on the baking sheets spaced 2 inches apart. Top each with salt, pepper, and a bit of the reserved cheese.
5. Bake the scones until they're lightly browned, beginning checking for doneness after 15 minutes. remove from the oven and serve warm with tomato jam (recipe follows).
For the tomato jam:
In a saucepan, combine the tomatoes, sugar, salt, crushed red pepper, and a few turns of black pepper. Set over medium heat and cook uncovered, stirring occasionally, until most of the liquid has cooked off, 1 to 1 1/2 hours. Press through a fine-mesh sieve to remove the tomato skins. Stir in the lemon juice. Let cool and store in the refrigerator until ready to use.
Source: Kerrygold USA