Blackberry and Apple Pie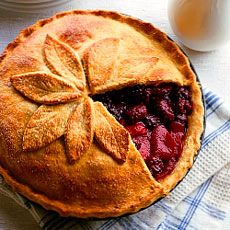 Ingredients:
2 cups Cream Flour
1/2 cup Irish butter
Pinch Of Salt
Ice Water
3 Cups Fresh Blackberries
3 Cups Peeled Sliced Apples
1/2 Cup Sugar
2 Tablespoons cream flour
2 tablespoons Irish butter
Method:
1. Make short crust pastry using Cream flour, Irish butter and ice water then chill.
2. Roll out half the pastry and line a 9″ tin plate-chill.
3. Mix blackberries, apples, sugar and cream flour together add a pinch of salt.
4. Place in a chilled pie plate and dot top with the Irish butter chill again.
5. Roll out the second half of the pastry.
6. Place over fruit dampen edges before sealing.
7. Flute edges for decoration and prick top to all steam to escape.
8. Place pie plate on baking sheet (this will catch any juices ).
9. Bake at 425 degrees for 15 minutes.
10. Reduce heat to 375 degrees.
11. Bake for 20-30 minutes or until top is nicely browned.