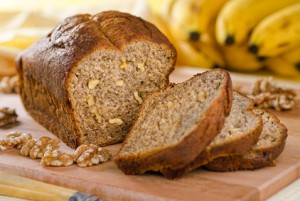 Ingredients:
225g/8oz Odlums Self Raising Flour
1/2 teaspoon Mixed Spice
125g/4oz Margarine or Butter
50g/2oz Mixed Peel
50g/2oz Sultanas
50g/2oz Chopped Walnuts
450g/1lb Bananas
1 tablespoon Honey (runny)
2 Eggs (beaten)
Method:
1. Preheat oven to 180°C/350°F/Gas 4. Lightly grease a 900g/2lb loaf tin.
2. Place the flour and spice into a mixing bowl, add the butter or margarine and "rub in" until mixture resembles breadcrumbs.
3. Stir in the mixed peel, sultanas and walnuts.
4. Mash the bananas with the Rowse honey, stir gently into the mixture with the beaten eggs. Mix well.
5. Transfer to prepared tin and bake for about an hour until well risen and golden brown.
6. Remove from oven and allow to cool in tin for 10 minutes. Turn onto wire tray to cool completely.
7. When cold wrap in greaseproof paper and tin foil.
Source: Odlums