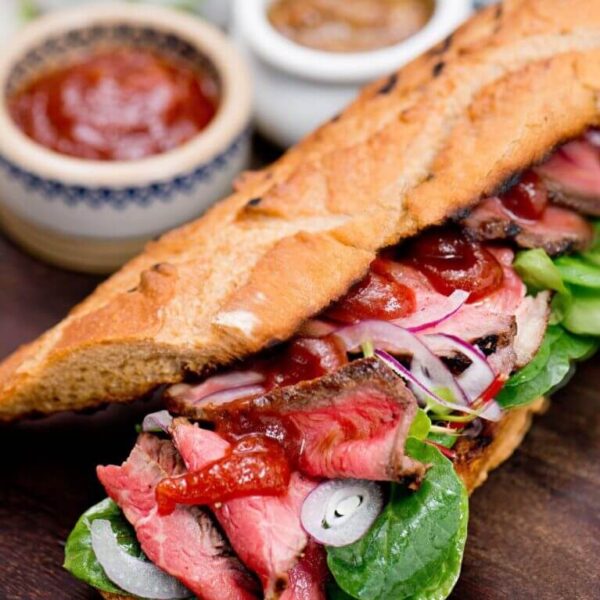 Ballymaloe Steak Sandwich with Steak Sauce
Ingredients:
250g/ 8oz Strip Loin Steak
A little A Little Olive Oil
Salt & Pepper
1/2 Red Onion
2 Handfuls of Salad Leaves (rocket, spinach, chard, lambs leaf…)
Wholegrain mustard
2 whole wheat rolls or your favourite sandwich bread (sourdough, ciabatta, country white, baguette…)
Ballymaloe Steak Sauce
Method:
1. Marinate the steak in advance with some olive oil, salt and pepper and refrigerate.
2. When ready allow the steaks to come to room temperature before cooking.
3. Heat a griddle pan until nice and hotand then add the steaks. For medium rare cook 3-4 minutes per side, depending on thickness.
4. For the final moments cooking try basting the steak with some Ballymaloe Steak Sauce and turning to caramelise the edges.
5. When the steak is cooked, remove it from the pan and allow to stand for about 10 minutes. The secret to a juicy steak is to let it rest before eating.
6. Slice the onion into half moons. Spread mustard on one side of the roll and add salad leaves and sliced onion.
7. Slice steak and place pieces on top of onions, finish with Ballymaloe Steak Sauce and enjoy!
Tip: After cooking rest your steaks! Rest your steaks onto an upturned plate placed on top of another plate and leave them for a few minutes in a warm place. The secret to a juicy steak is to let it rest.
Source: Ballymaloe Foods