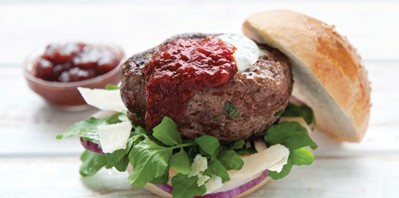 Ballymaloe Beef Burger with Ballymaloe Original Sauce
Serves 4 – 6 people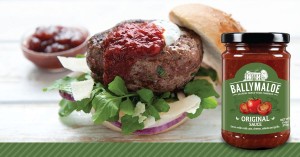 Ingredients:
Burger:
1 tbsp butter
2/3 cup chopped onions
16 ounces minced beef
2 tbsp Ballymaloe Original Sauce
Salt and freshly ground pepper, to taste
1 tsp fresh thyme leaves, chopped
1 egg, beaten (ideally free-range)
For Cooking and Serving:
1/4 cup flour, seasoned
Olive oil for frying
4–6 soft burger buns
2 ounces medium white cheddar cheese shavings or slices
Handful of mixed lettuce greens Red onion, sliced
2 tbsp Ballymaloe Original Sauce
Method:
1. Melt the butter in a pan, add the onions, cover and sweat until soft.
2. Allow to cool and then mix in a bowl with all the other ingredients.
3. Cook a little of the mixture in a pan and taste to check seasoning.
4. Adjust seasoning as needed then shape into burgers and toss in seasoned flour, patting off excess.
5. Fry in the olive oil over medium heat, turning as required until fully cooked (internal temperature of at least 160°F.)
6. Serve on a toasted bun with cheese shavings, lettuce, onion slice and a dollop of Ballymaloe Original Sauce. Delicious!