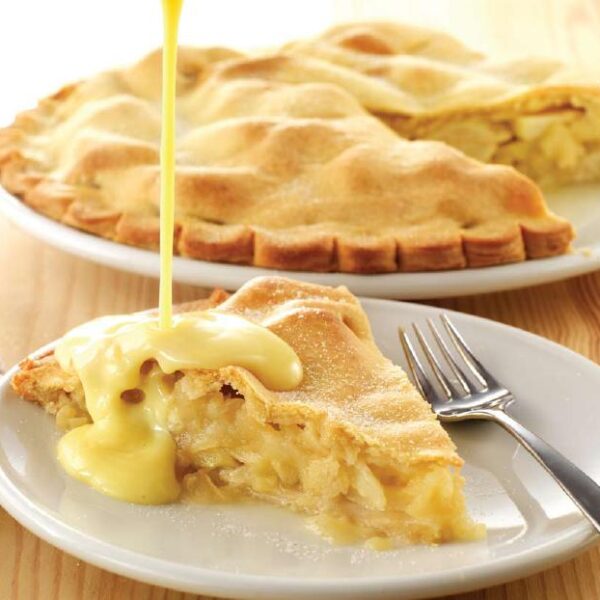 Apple Tart
Homemade apple tart – an unbeatable blend of sweet pastry filled with delicious apples!
Ingredients:
225g/8oz Odlums Cream Plain Flour
125g/4oz Margarine
¼ pint/150ml Cold Water (approx)
4 Large Cooking Apples (peeled,
cored and sliced)
Sugar to sweeten apples
Icing Sugar to dust (optional)
Method:
1. Preheat oven to 200°C/400°F/Gas 6.
2. Place margarine in freezer for about 15 minutes to harden.
3. Sieve flour into a bowl.
4. Grate hard margarine into the flour. You may need a little flour on your fingers for this.
5. Using a knife, mix grated margarine into flour.
6. Add sufficient water and mix to a soft dough with the knife.
7. Turn onto a floured board and knead lightly.
8. Roll out half the pastry to the size of an oven proof plate.
9. Arrange apples on the pastry.
10. Sprinkle with sugar to sweeten.
11. Roll remaining pastry to cover the apples.
12. Dampen edge of base pastry with cold water to seal.
13. Press top pastry over apples to make the tart. Seal the edges by using the back of a knife to form a crust.
14. Then cut at 1"/3cm intervals to form a scalloped edge if liked!
15. Put a cut on top of pastry to allow steam to escape and bake for 35 minutes approx.
Note: Margarine may be rubbed into the flour, then chilled for 30 minutes before rolling.
Serve with Birds Custard.
Source: Odlums