Everyone loves to celebrate Halloween. From great costumes to delicious food, it is the perfect holiday. For a really special, fun and easy dessert try these delightful Witches Fingers from the Sur La Table kitchen. Witches Fingers are easy to make and the perfect finger food (pardon the pun) if you are going to or hosting a party.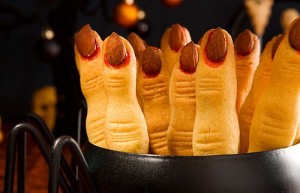 Ingredients:
1 1/4 cups all-purpose flour
1 teaspoon ground cinnamon
1/2 teaspoon kosher salt
1/2 cup Kerrygold Unsalted Butter, room temperature
1 1/2 ounces cream cheese, room temperature
1/3 cup granulated sugar
2 tablespoons light brown sugar
1 large egg yolk
1 teaspoon vanilla bean paste
24 sliced almonds (1 per cookie for nails)
Method:
1. Preheat an oven to 350°F and position an oven rack in the center.
2. Line two baking sheets with parchment paper.
3. In a bowl, combine the flour, cinnamon and salt. Set aside.
4. In the bowl of a stand mixer, fitted with a paddle attachment, add the butter and cream cheese and beat on medium speed until smooth.
5. Gradually add the sugars and mix until light and fluffy.
6. Add the egg yolk and vanilla and mix, using a silicone spatula to scrape down the sides, until well combined.
7. Reduce the speed of the mixer to low and gradually add the flour mixture, mixing until just combined.
8. Fill either a cookie press or a pastry bag, fitted with a 1/4-inch pastry tip, with dough and press the dough into 3-1/2-inch long cylinders.
9. Apply a little more pressure halfway through the piping process to form 'knuckles'.
10. Using a paring knife, gently score the top of the dough to form wrinkles.
11. Press an almond into one end of each cookie to make the finger nail.
12. Transfer the cookie sheet to the oven and bake, checking almonds halfway through to ensure they are still in place, until golden-brown, about 10 to 12 minutes.
13. Allow the fingers to cool to the touch on baking sheet before transferring to a wire cooling rack to completely cool.
Source: Kerrygold