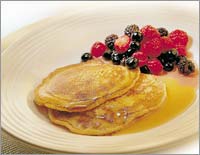 Ingredients
6oz plain flour
1 teasp. baking powder
2 tablesp. sugar
3 eggs
1 tablesp. Greek style yoghurt
Milk
Butter for cooking
Method
Place the flour, baking powder and sugar in the food processor. Whiz to mix well.
Add the eggs, yoghurt and enough milk to make a thick, but not too thick batter.
Heat a knob of butter on a non-stick pan.
Take spoonfuls of the batter and cook on the hot pan for 3-4 minutes on each side until nicely browned.
Keep warm.
To serve
Serve with berries sprinkled with caster sugar and syrup. A spoonful of Greek style yoghurt would also be very good served with them.
Source: Bord Bia