A classic cake celebrating the best of baking and summer strawberries.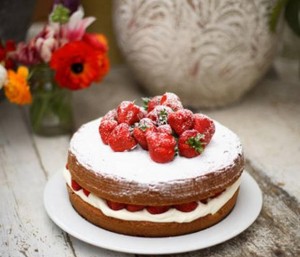 Ingredients:
75g / 3oz Odlums Self Raising Flour
3 Eggs (separated and at room temperature)
75g/3oz Caster Sugar*
Pinch of Salt
Few drops of Vanilla Essence (optional)
Filling:
Fresh Strawberries
150ml / 1/4 pint Whipped Cream
Method:
1. Preheat oven to 200°C/400°F/Gas 6. Grease and base line two 18cm / 7 1/2″ sandwich tins with greaseproof paper.
2. Place the three egg whites and the pinch of salt in a large, clean, dry mixing bowl.
3. Stiffly beat until mixture is "dry looking" in appearance.
4. Add the sugar and beat for a few seconds; then add the egg yolks and beat until mixture thickens and the trail of the beaters is visible.
5. Finally, sieve in the flour and "fold" it into the thick mixture using a metal spoon.
6. To fold, just cut through the mixture, over and over with the metal spoon until all the flour is blended. Never beat, as that will beat out all the air!!
7. Fold in the vanilla essence (if used), then transfer to the prepared tins and bake for about 15 minutes.
8. As soon as sponge is baked, transfer to a wire tray to cool.
9. When cold, sandwich with whipped cream and the strawberries.
*Caster sugar/castor sugar/superfine sugar is a fine form of granulated sugar. It is used in baking as it dissolves more quickly than granulated sugar. In the UK & Ireland granulated sugar tends to have quite large granules so is not suitable for baking. However in the US granulated sugar tends to be finer and can be used for baking in some recipes, particularly if the butter and sugar are creamed together for a while at the beginning of the recipe. For meringues we would always recommend using caster or superfine sugar.