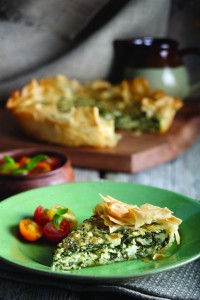 Ingredients
100g (4oz) (8 tbsp) Kerrygold butter
1 onion, finely chopped
4 spring onions or scallions, finely chopped
500g (1lb 2oz) spinach, tough stalks removed and finely shredded
225g (8oz) feta cheese
2 eggs
50g (2oz) (½ cup) Kerrygold Dubliner cheese,
finely grated good pinch of freshly grated nutmeg
2 tbsp chopped fresh mint
6 sheets filo pastry, thawed if frozen salt and freshly ground black pepper cherry tomato and basil salad, to serve
Method
1. Preheat the oven to 180°C (350°F), Gas mark 4. Melt a knob of the butter in a pan and add the onion.
2. Sauté gently until softened but not browned. Stir in the spring onions or scallions and cook for another minute.
3. Add the spinach a handful at a time, until it has all wilted down.
4. Tip into a colander and press out all the excess liquid. Leave to cool.
5. Crumble the feta cheese into a large bowl and lightly mash with a fork.
6. Mix in the eggs, cheese, the spinach mixture, nutmeg, and mint. Season to taste.
7. Melt the rest of the butter in a small pan or in the microwave.
8. Unroll the filo pastry and brush a 23cm (9in) round clip-sided or loose-based cake tin with melted butter.
9. Then brushing each filo sheet lightly with the melted butter, place in the tin, buttered side down, leaving the excess to hang over the edge. Turn the tin a quarter turn after each sheet.
10. Tip the filling into the tin, fold the excess pastry onto the top, a sheet at a time to give a ruffled effect.
11. Brush any remaining melted butter on top. Bake for about 45 minutes until crisp and golden brown.
12. Remove from the oven and leave to settle for 5 minutes.
13. To serve, take the spinach and feta pie out of the tin and cut into slices. Arrange on plates with the cherry tomato and basil salad to serve.
Source: Kerrygold