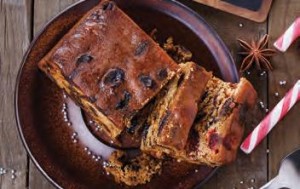 Ingredients:
175g/6oz Butter, at room temperature
175g/6oz Light Muscovado Sugar
4 Large Eggs
225g/8oz Odlums Cream Plain Flour
½ tsp Mixed Spice
½ tsp Goodall's Nutmeg
275g/10oz Raisins
275g/10oz Sultanas
100g Tub Cherries
100g Tub Mixed Peel
100g Packet Chopped Almonds
100g Packet Ground Almonds
Grated Zest of 1 lemon
Grated Zest of 1 orange
2 tbsp Whiskey
Method:
1. Preheat the oven to 120°C/250°F/gas mark ½. Line a 20cms/8in round or 18cm/7in square deep cake tin with a double layer of baking parchment.
2. Beat the butter and sugar together in a large mixing bowl until creamy. Beat in the eggs with a few spoonfuls of the flour. Sieve in the remaining flour and the spices. Mix well.
3. Stir in the raisins, sultanas, cherries, mixed peel, chopped and ground almonds, lemon zest, orange zest and whiskey until well combined.
4. Transfer to the prepared tin, smoothing the top with the back of a spoon. Bake for approx. 3-4 hours until a skewer inserted into the centre comes out clean (check at regular intervals after 2½ hours).
5. Leave to cool completely in the tin.
6. When cold, remove from the tin and wrap in greaseproof paper, then in tin foil. Store in a cool dry place until ready for decorating.
Source: Odlums