A really tasty and economical dish.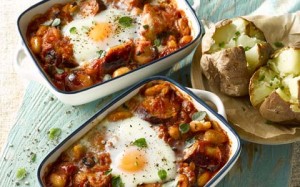 Ingredients:
4 large eggs
8 sausages
1 tableps. rapeseed oil
1 large onion, finely chopped
2 garlic cloves, peeled and crushed
1 red chilli, deseeded and finely chopped
1 teasp. of smoked paprika
1 x 400g tin of chopped tomatoes
1 teasp. tomato purée
A pinch of sugar
1 x 400g tin of cannellini beans, rinsed and drained
100mls water
A good handful of basil leaves, chopped
Salt and freshly ground black pepper
To Serve: Baked potatoes
Method:
1. Preheat the oven to Gas Mark 6, 180°C (350°F).
2. Heat the grill and cook the sausages under a medium heat for about 15 minutes until cooked.
3. While the sausages are cooking heat a little oil in a large frying pan over a medium heat. Add the onion and fry for 2-3 minutes.
4. Then stir in the garlic, chilli and smoked paprika and cook for another 2 minutes.
5. Add in the tin of tomatoes, the tomato purée and a pinch of sugar. Stir and bring to the boil. Reduce the heat and simmer for 5 minutes.
6. Add the beans and stir them through the mixture. Set aside some of the basil to decorate the final dish and add the remainder to the pan.
7. Taste and season with a little salt and black pepper.
8. Cut each sausage in four and add to the pan. Grease either 4 individual or one large ovenproof dish. Pour in the mixture.
9. Make four little wells to take the eggs then break the eggs in.
10. Place in the preheated oven and bake for 10-12 minutes until the eggs are set.
11. When cooked remove from the oven, sprinkle over the reserved basil and a little black pepper and serve with baked potatoes.
Source: Bord Bia