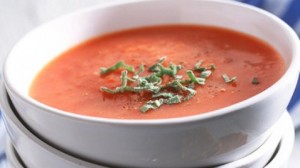 Ingredients
2.25 lb vine ripened tomatoes
2 tblsp Lakeshore rapeseed oil
1 tsp balsamic vinegar
1/2 tsp chopped fresh thyme
1 large onion, finely chopped
2 garlic cloves, crushed
2 heaped tbsp ballymaloe red pepper relish
900 ml (1 1/2 pints) vegetable stock
1 tblsp torn fresh basil, plus extra sprigs, to garnish
sea salt and freshly ground black pepper
Method
1.Preheat oven to 190C (375F/Gas 5).
2.Arrange the tomato halves in a baking tin, cut side up.
3.Drizzle over half the rapeseed oil and then sprinkle the vinegar and thyme on top.
4.Place in oven and roast for 20-25 minutes until softened and lightly charred.
5.Heat the remaining tablespoon of oil in a pan, add the onion, and garlic and sweat for 10 minutes until lightly golden, stirring occasionally.
6.Add the roasted tomatoes with the red pepper relish and stock and bring to the boil.
7.Reduce the heat and simmer for 10-15 minutes until slightly reduced.
8.Add the basil and then blitz with a hand blender until smooth.
9.Season lightly and pass through a sieve for a really smooth finish.
10.Return to a clean pan and reheated gently, then ladle the soup into warmed bowls. Garnish with the basil sprigs to serve.