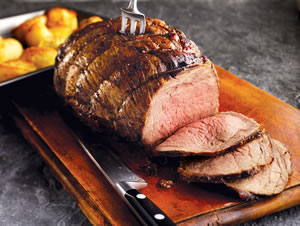 Great flavour roast and easy to prepare
Ingredients
3.5lb sirloin or rump of beef
2 garlic cloves, crushed
½ tablesp. freshly-ground black pepper
1 tablesp. whole-grain mustard
2 tablesp. olive oil
2 carrots and 1 onion chopped
Salt
1 tablesp. plain flour
Half a glass of red or white wine
250mls stock
Method
Heat the oven to Gas Mark 7, 220°C (425°F).
Place the garlic, pepper and mustard in a small bowl, add in the oil and mix to a paste.
Rub the mixture all over the beef, then place it in a roasting tin along with the carrots and onion. Season with a little salt.
Roast for 25 minutes, then lower the heat to Gas Mark 4, 180°C (350°F).
Roast for another hour for rare and 1½ hours for medium rare.
Take the meat out of the oven, transfer to a carving board, cover with foil and allow to rest for 15-20 minutes before carving.
To make the gravy, stir the flour into the juices in the roasting tin. Place over a medium heat, and continue stirring with a wooden spoon. Gradually add in the wine and stock and stir until smooth. Allow to simmer for a couple of minutes. Season and pour through a sieve into a gravy boat, discarding the vegetables that were cooked alongside the roast.
Slice the beef and serve with paprika flavoured roast potatoes and steamed vegetables. Serve the gravy separately.
To make the potatoes simply toss peeled potatoes in a little olive oil, paprika and seasoning and roast for 40-45 minutes – for 2lb of potatoes use 2 tablespoon oil and 2 teaspoon paprika.