This Spanish classic is simple to prepare and easily doubled to serve a crowd. Artichokes, bell peppers, mushrooms and olives cooked with nutty brown rice make this a hearty one-dish meal. The blend of exotic spices including saffron and tumeric give an extra special flavor.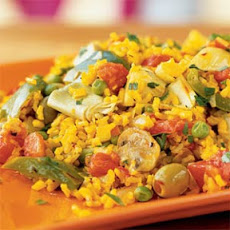 Ingredients:
2 tbsps Lakeshore Rapeseed oil
2 cups chopped onion
2 cups chopped green bell pepper
1 cup cremini mushrooms (sliced)
2 garlic cloves (minced)
3 cups brown rice (uncooked quick-cooking)
2 cups fat free less sodium vegetable broth (such as Swanson Certified Organic)
1 cup water
1 tsp saffron threads (crushed, or ground turmeric)
1/2 tsp dried thyme
2 cups tomatoes (chopped)
1 cup green peas (frozen)
1/2 cup pimiento stuffed olives (chopped)
2 tbsps flat leaf parsley (chopped)
1/4 tsp ground black pepper (freshly)
14 ozs artichoke hearts (drained and coarsely chopped)
flat leaf parsley (Chopped, optional)
Method:
Heat olive oil in a stockpot over medium-high heat. Add onion, bell pepper, mushrooms, and garlic; sauté 5 minutes. Stir in rice and next 4 ingredients (through thyme); bring to a boil. Cover, reduce heat, and simmer 10 minutes.
Stir in tomato, green peas, olives, 2 tablespoons parsley, black pepper, and artichoke hearts. Cook 3 minutes or until rice is tender and mixture is thoroughly heated. Garnish with additional chopped fresh parsley, if desired.