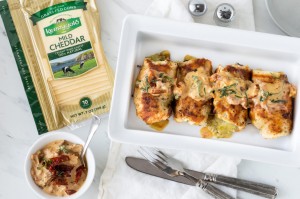 Ingredients:
4 boneless, skinless chicken breasts
4 thin slices of prosciutto
4 tablespoons pesto
4 slices Kerrygold® Mild Sliced Cheddar Cheese
juice of one lemon
olive oil
salt and pepper
1 small shallot minced
1 clove garlic, minced
2 tablespoons butter
1/2 cup dry white wine
1 1/2 cups heavy cream
1/2 cup oil-packed sun-dried tomatoes, patted dry and julienned
1/4 cup fresh basil, sliced in ribbons
Method:
1. Place the chicken between two sheets of wax paper and pound 1/4 inch thick. Place one slice of prosciutto on top of each breast, then layer with 1 slice of cheese and 1 tablespoon of pesto.
2. Roll chicken up and secure with a toothpick. Place chicken in an 8 x 8 glass pan, drizzle with olive oil and lemon juice and cover. Refrigerate for 2- 24 hours.
3. Remove chicken from the refrigerator 30 minutes before cooking. Preheat oven to 350º F.
4. Heat oven safe skillet over medium high heat and add chicken breasts. Sear on each side until brown (about 2 minutes per side). Place skillet in oven and finish baking for 10 minutes or until chicken is cooked through to internal temperature of 165º F. Remove from oven and keep warm.
5. While the chicken is cooking, melt butter in a small saucepan and sauté the shallots until translucent. Add garlic and wine and bring to a boil. Cook for about 2 minutes until liquid is reduced to 1/3 cup.
6. Add cream and bring to a boil. Reduce heat and cook for about 10 minutes, stirring occasionally. Stir in tomatoes and cook for an additional 2 minutes. Whisk in basil and remove from heat. Drizzle over cooked chicken breasts.
Source: Kerrygold USA