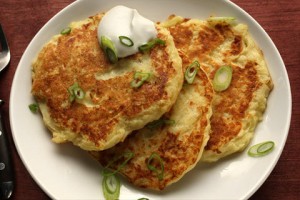 Ingredients:
1oz/25g cream flour
1lb/450g potatoes
1 small onion
1 small egg
1 teaspoon of salt
2oz/50g Irish butter
pinch of saxa pepper
4oz/128g of colmans apple sauce
Method:
1. Peel potatoes and onion,
2. Sift the cream flour into a large bowl.
3. Great the onion and potato into the flour using a fine greater.
4. Quickly stir in the egg, salt and saxa pepper.
5. Lightly grease a large frying pan with a little butter.
6. Drop large spoonfuls of the mixture into the pan, keeping them well apart,
7. Fry until golden and crisp on both sides.
8. Drain on kitchen paper and serve with colmans apple sauce.