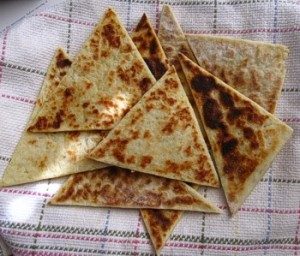 Ingredients:
1 cup of flour
Six Large potatoes
One Egg
One bunch of scallions
Two tablespoons of Irish butter
Cup of Milk
Salt to taste
Method:
1. Peel, boil and mash the potatoes.
2. Finely chop the scallions and add to a large bowl.
3. Add in the potatoes, half the flour and butter. Mix with a wooden spoon. Blend Egg and milk together. Add this as required to bind the potatoes together like a dough. Add a pinch of salt to taste.
4. On a floured board, roll out the mixture to about one inch thick. Use a 10″ plate upside down on the potato dough and cut out a circle of dough using a knife.
Remove excess potato dough from around perimeter of this circle. Divide the circle into 8 "Pie-Slices".
5. Place each slice on a hot pan or grill for about 3 – 4 minutes each side until golden brown. Serve hot with butter on top.