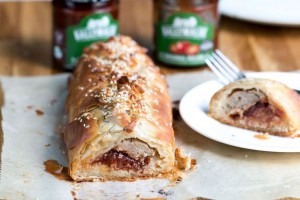 Ingredients:
1pk (270g)Filo pastry sheets
100g Melted Butter
400g Good Quality Pork Sausage Meat
1 jar of Ballymaloe Original Relish
Black Pepper
Flour for dusting
Method:
1. Preheat your oven to 180oC Fan
2. Line a baking tray with parchment and start layering the filo pastry sheets, spreading melted butter on each sheet.
3. With floured hands , shape the sausage meat into a cylinder shape and place it onto the filo pastry. Add a good grinding of black pepper.
4. Make a well along the top of the sausage meat, deep enough to put in around 6 tablespoons of Ballymaloe original relish.
5. Wrap the sausage meat up in the pastry, place it join side down, brush with butter and bake in the oven for 40 mins, until the pastry is golden and the sausage meat is piping hot.
6. Serve warm or cold.
Source: Ballymaloe Foods