These pork chops are cooked until they're beautifully golden but still tender and moist. Of course they would also be delicious cooked on the barbecue or under the grill.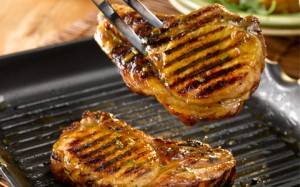 Ingredients:
1 orange
2 tablesp. olive oil
1 teasp. Lakeshore mustard
1 teasp. rosemary, chopped
4 x 150g bone-in loin pork chops, each about 2.5cm thick
Salt and freshly ground black pepper
Jacket potatoes and lightly dressed mixed salad, to serve
Method:
Finely grate the rind from the orange into a bowl and then squeeze in the juice. Whisk in the olive oil, mustard and rosemary. Season and pour into a shallow non-metallic dish. Add the pork chops, turning to coat. Cover with clingfilm and set aside for at least 15 minutes or up to 24 hours in the fridge to allow the flavors to penetrate the meat.
When you are ready to cook, preheat a griddle pan until smoking hot. Shake off the excess marinade from the pork and add to the griddle pan. Cook for 10-12 minutes until cooked through, turning once. Remove from the heat and leave to rest for a couple of minutes.
Serving Suggestions
Arrange the pork chops with the jacket potatoes on warmed plates. Have a bowl of salad to hand around separately.
Serves 4
Source: Bord Bia