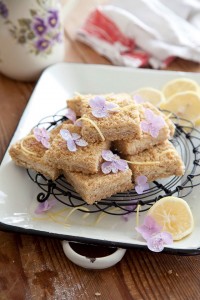 Ingredients:
150g (6oz) Butter
200g (8oz) Brown Sugar
150g (6oz) Flahavan's Progress Oatlets
200g (8oz) Plain Flour
Zest & juice of 2 Lemons
400g (1 can) Condensed Milk
Method:
1. Beat the butter and sugar until light and fluffy in a mixer or food processor.
2. Add the flour and oats and mix to form a dough; the texture will be crumbly.
3. Line a 13″ x 9″ (32cm x 22cm) baking tray with parchment and firmly press out about 2/3 of the dough in the base of the tray.
4. In a separate bowl combine the juice and zest of the lemons with the condensed milk.
5. Spread the condensed milk and lemon mixture on top of the dough in the baking tray.
6. Sprinkle the remaining dough over the top and press lightly.
7. Bake in a preheated oven at 180C/350F/Gas Mark 4 for 10 mins.
8. Lower the temp to 150C/300F/Gas Mark 2 and bake for a further 20 mins until golden brown.
9. Allow to cool and cut into small squares.
Source: Flahavans