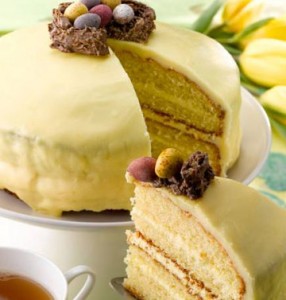 Ingredients:
225g/8oz Odlums Cream Plain Flour
225g/8oz Butter (room temperature)
225g/8oz Caster Sugar
4 Eggs (beaten)
1 teaspoon Baking Powder
1 tablespoon Orange Juice
Orange Filling:
225g/8oz Icing sugar (sieved)
125g/4oz Butter (room temperature)
Rind of 1 Orange
1 tablespoon Orange Juice
Glace Icing
275g/10oz Icing Sugar
Orange Juice (about 3 tablespoons)
Orange Colouring (optional)
Chocolate Nest
125g/4oz melted Chocolate
Shredded Wheat
Mini Eggs
Method:
1. Preheat oven to 180°C/350°F/Gas 4. Grease and base line 2 sandwich tins: 20cms/8″.
2. Put butter and sugar into a mixing bowl and beat until soft and light. Gradually beat in the eggs, adding a little of the flour.
3. Sieve the remaining flour with the baking powder and add to the creamed mixture. Mix well. Finally, stir in the orange juice.
4. Divide the mixture evenly between the two tins, hollowing it slightly in the centre.
5. Bake for 35 minutes or until golden brown and when gently touched it feels firm. Turn onto a wire tray to cool.
6. Make the chocolate nest by adding the broken shredded wheat into the melted chocolate, shape into a nest, leaving a hollow centre.
7. Allow to cool. When cold put some mini eggs into the nest.
8. Meanwhile, make the filling by beating all the ingredients together until smooth and creamy.
9. Next, make the icing by adding enough orange juice to the icing sugar to make a spreadable icing. If using the orange colouring, add at this point.
10. When cakes are cold, slice each one in two halves, spread with a little of the filling, then, sandwich the layers together.
11. Spread icing over the top and sides of cake. Decorate the top with a chocolate nest.
Source: Odlums