It is hard to beat this simple coating for lamb chops.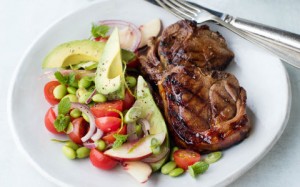 Ingredients:
8 lamb chops, well trimmed
1½ tablesp. Lakeshore mustard
3 tablesp. brown sugar
Salt and freshly ground black pepper
Summer Salad
Grated zest and juice of 1 lime
3 tablesp. olive oil
Handful of mint leaves, chopped
100g soya beans or peas, cooked and cooled
250g cherry tomatoes, halved
4 scallion, thinly sliced
1 small red onion, peeled and thinly sliced
2 nectarines, stones removed, cut into thin wedges
1 avocado, peeled and cut into wedges
To serve:
Steamed new potatoes
Method:
Coat the chops first in the mustard and then in the brown sugar. Season with a little salt and pepper. Cook on a preheated barbecue or grill for 3-4 minutes on each side.
In a large bowl, whisk together the lime zest, juice and olive oil. Add the beans or peas, cherry tomatoes, scallions, red onion, nectarines, avocado and most of the mint leaves to the dressing in the bowl and mix gently. Season with salt and black pepper. Scatter the reserved mint leaves over the salad.
Serving Suggestions
Serve the chops with the salad and some steamed new potatoes.
Serves 4
Source: Bord Bia