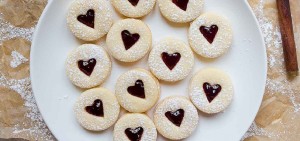 Ingredients:
1 brick Kerrygold Salted Butter (8 ounces), softened
1 cup granulated sugar
1 large egg
2 teaspoons vanila extract
1 teaspoon baking powder
1/4 teaspoon fine salt
3 cups all-purpose flour, plus more for rolling
1/2 cup blackberry jam
1 tablespoon Chamboard (or substitute water)
powdered sugar, for serving
Method:
1. Line 2 baking sheets with parchment paper.
2. In a large bowl, beat the butter until it breaks down and starts to get creamy, about 1 minute.
3. Slowly stream in the sugar, about 1 tablespoon at a time, while constantly beating. Beat for another minute.
4. It should be light, fluffy, and a pale yellow.
5. Add the egg and vanilla, and beat to combine.
6. Sprinkle the baking powder, salt and flour evenly over the dough. Beat to combine.
7. Flour a work surface very well, and bring out 1/4 of the dough.
8. Roll it out to 1/4" thick, and then use cookie cutters to cut out one shape.
9. On half of the cookies, use the second, smaller cookie cutter to cut out a shape in the center. Return the extra dough to the bowl.
10. Move the shapes to the baking sheet.
11. Repeat with remaining dough.
12. Preheat the oven to 350F.
13. Refrigerate each baking sheet for 30 minutes before baking.
Bake the cookies for 8-12 minutes, depending on the size of the cookie cutter. They should just barely start to turn golden brown on the edges.
Let the cookies cool on the baking sheet.
Whisk together the jam and Chamboard (or water) until smooth.
When the cookies are cool, dust with powdered sugar.
Dollop a small amount of jam on the larger cookie, and top with the cut-out cookie. Serve.
Source: Kerrygold