The Perfect Vegan version of a classic all time favorite dish. A Juicy, Delicious and well Seasoned Burger recipe.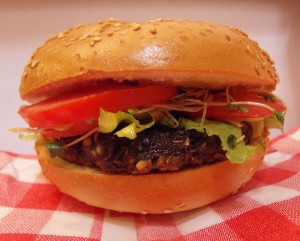 Ingredients:
1 cup black lentil (or Green)
water (for cooking)
200 grams button mushrooms (fresh)
5 shiitake
2 bay leaves (optional)
2 tbsps Lakeshore Rapeseed oil
1 onion (small, Chopped)
1 garlic cloves (Crushed)
2 tbsps soy sauce
1 tbsp tahini
1 tbsp red wine
1/2 cup vegetable broth
1 cup Flahavans oatmeal
1/4 tsp smoked paprika (sweet-)
thyme
oregano
1/2 tsp basil
1/4 tsp cayenne pepper (crushed dried, spicy as desired)
1 tsp ground cumin
pepper
salt
Method:
1.Fill a large pot with water, add the lentils and bay leaves and cook until soft (BUT don't let it be too mushy). Strain.
2.Place mushrooms and lentils and a food-processor and mix in pulses.
3.Use the cooking pot and gently fry the onion for a minute or two. Add the garlic, stir and remove from stove. Combine the lentils-mushrooms mix with the onion-garlic and add while stirring: tahini, soy sauce, vegetable broth, red wine and oats.
4.Place the burger-mix in the refrigerator for about 20 minutes. Divide mixture into patties.
Grill or bake over medium heat.
Source: Yummly