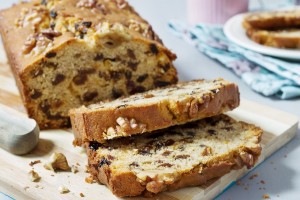 Ingredients
225g/8oz Odlums Self Raising Flour
125g/4oz Butter (room temperature)
125g/4oz Caster Sugar
150ml/ ¼pt Milk (less 2 Tablespoons)
2 Eggs
350g/12oz Shamrock Fruit Mix
1 Level Teaspoon Mixed Spice
Shamrock Walnut Halves
Method
1.Preheat oven to 160° C/325° F/Gas 3. Grease and base line a 900g/2lb loaf tin.
2.Using the All-in-One method put the flour, margarine, sugar, milk, eggs, fruit and mixed spice into a mixing bowl.
3.Beat until all ingredients are well mixed. Transfer to the prepared tin. Smooth top with back of spoon. Place the walnuts on top.
4.Bake in the centre of the oven for about 1 to1 hours until well risen and a knife pushed into loaf comes out clean.
5.Remove from oven and allow to remain in tin for about 10 minutes. Turn onto a wire tray to cool.
Source: Odlums