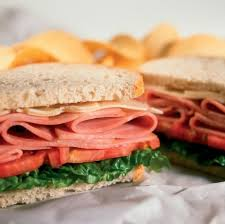 This sandwich is always a winner
Ingredients
Imported Irish Ham
Brennans Wholemeal Bread
Kerrygold Butter
Salad leaves
Herb Relish
0.7oz each of mint, tarragon and basil
1.4oz flat leaf parsley
2 cloves garlic, roughly chopped
4 scallions, chopped
4-6 tablesp. olive oil
1 tablesp Lakeshore wholegrain mustard
A squeeze of lemon juice
Salt and freshly-ground black pepper
Method
1. Cook the ham in a deep saucepan. Cover with water and cook for 20 minutes per pound.
2. To make the dressing- whiz the herbs, garlic and scallions in a food processor.  Then add the oil in a stream until you have a thick green sauce.  Pour into a bowl and stir in the mustard and lemon juice. Season with salt and pepper.
3. Spread slices of bread with a little butter and add a small pile of salad leaves to the bottom half. Drizzle over a little of the dressing and arrange plenty of ham on top.  Add another good drizzle of the dressing then cover the sandwich with the top half of the bread.