A great way to kick-start the day!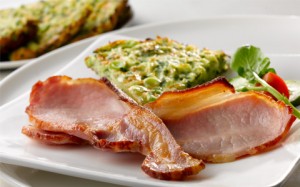 Ingredients:
8 rashers
750g potatoes, peeled
1 small onion
4 scallions, finely sliced
2 eggs, beaten
2 teasp. plain flour
15g parsley, chopped
Salt and freshly-ground black pepper
1 tablesp. olive oil
Method:
1. Grate the potatoes and onion. You can use a food processor if you wish. Wrap in a tea towel and squeeze out the moisture.
2. Then place in a bowl along with the scallions, eggs, flour, parsley, salt and pepper. Mix well.
3. Heat a 22cm non-stick frying pan over a medium heat and add the olive oil.
4. When hot add the potato mixture and spread it out over the base of the pan. Cover and cook for 10 minutes.
5. Shake the pan frequently to stop the mixture from sticking.
6. Remove the cover and finish off under a hot grill until fully cooked and golden brown.
7. Slide out on to a plate and keep warm while you grill the rashers until crispy.
8. Cut the potato cake into wedges and serve with the rashers.
Source: Bord Bia