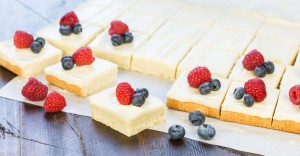 Ingredients:
Bar Ingredients:
2 1/2 cups flour
1 teaspoon baking powder
1/2 teaspoon salt
1/2 cup butter, softened
1 cup granulated sugar
1 egg plus 1 egg yolk
2 teaspoons vanilla extract
Frosting ingredients:
4 ounces cream cheese, softened
4 tablespoons butter, softened
1 teaspoon vanilla extract
1 1/2 cups powdered sugar
Method:
1. Preheat oven to 350 degrees. Lightly grease a 9 x 13 pan. Set aside.
2. Place flour, baking powder and salt in a small bowl and whisk together.
3. Beat together butter and sugar in a medium bowl until creamy. Mix in eggs and vanilla until thoroughly combined.
4. Add flour mixture in 2-3 stages, gently mixing after each addition.
5. Press dough into pan and bake for 15-18 minutes. Remove from oven and cool completely.
To make the frosting:
1. Beat together cream cheese, butter and vanilla until smooth. Add powdered sugar in stages, beating well after each addition.
2. Spread frosting over cooled bars.
Bars can be held at room temperature for 3 hours or kept covered in the refrigerator for longer storage.
Source: Kerrygold