Nothing quite warms the soul on a chilly day like soup. And is there anything quite as Irish as Potato Soup? That's why we found it fitting to take an Irish classic and make it into a quick but flavorful weeknight meal. This Cheesy Potato Soup gives you a double dose of Kerrygold Aged Cheddar in every bite. The best part? It can be on the table in 30 minutes but tastes like it has been simmering all day. Add some crusty bread and a green salad and dinner is served!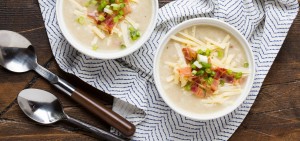 Ingredients:
2 pounds Russet Potatoes, peeled and cubed
½ cup chopped onion
6 -8 cups chicken broth
1 teaspoon salt
1 teaspoon pepper
2 cups milk
1/2 cup sour cream
8 ounces Kerrygold Aged Cheddar, shredded (divided)
6 slices bacon, cooked and crumbled
6 green onions, chopped
Method:
1. Place potatoes and onion in a large Dutch oven and add enough chicken broth to cover potatoes. Season with salt and pepper.
2. Bring pot to a boil and simmer until potatoes are tender, about 12 minutes.
3. Use an immersion blender or potato masher to get soup to desired consistency. Add milk and sour cream and stir until combined.
4. Reserve ½ cup of Kerrygold Aged Cheddar for topping.
5. Add remaining cheese by the handful and stir until completely melted. Simmer over low heat for 5 minutes to let flavors meld.
6. Ladle into bowls and divide the bacon, green onions and cheddar cheese between the bowls.
This soup freezes well! Make it ahead of time and freeze for busy nights on the run!
Source: Kerrygold