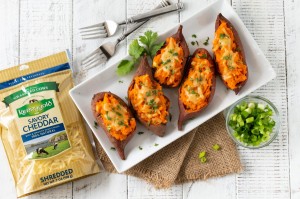 Ingredients:
6 small sweet potatoes
2 tablespoons Kerrygold Salted Butter
2 tablespoons sour cream
Juice of ½ lime
2 tablespoons brown sugar
2 tablespoons chopped chipotle peppers in adobo sauce
1 teaspoon minced fresh garlic
2 green onions, chopped
½ cup-3/4 cup Kerrygold Savory Shredded Cheddar Cheese
(plus additional for top)
Fresh cilantro for garnish
Method:
1. Preheat oven to 400 and line a small jelly roll pan with aluminum foil. Set aside.
2. Wash the sweet potatoes and pierce each several time with a fork to release steam when baking and place on prepared pan. Bake for 30 minutes or until fork comes out easily when pierced and remove from oven.
3.When potatoes are cool enough to handle, cut the top off of the potatoes and scoop the flesh into a medium bowl. Leave just enough potato in the skin to help it keep its shape. Repeat with each sweet potato.
Discard the tops and set the skins back on the pan.
4. Add the butter and sour cream to the bowl and mash the sweet potatoes until smooth.
5. Add lime juice, brown sugar, chipotle peppers, garlic, and green onions. Stir until combined.
6. Add Kerrygold Savory Cheddar Shreds and stir.
7. Scoop the sweet potato filling back into the potato skins and sprinkle additional cheese on top.
8. Bake for 20 minutes or until heated through and cheese is melted.
9. Garnish with fresh cilantro and serve immediately.
Source: Kerrygold