This bread is always best eaten the day it is made. To check that this loaf is properly cooked, tap the base. It should sound hollow. If it doesn't, return it to the oven for another 5 minutes. If you don't have any buttermilk in the house sour ordinary milk with the juice of a lemon. Experiment with other flavorings such as crispy pieces of smoked bacon or finely chopped sun-dried tomatoes.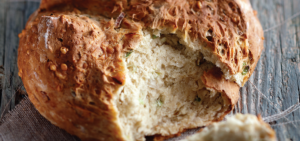 Ingredients:
2 2/3 cups (1lb) plain flour, extra for dusting
1 tsp bicarbonate of soda
1 tsp salt
1 cup (4oz) Kerrygold Dubliner cheese, grated
4 spring onions or scallions, finely chopped
1 ½ cups (12fl oz) buttermilk, little extra if necessary
Method:
1. Preheat the oven to 450°F (230°C), Gas mark 8. Sift the flour, bicarbonate of soda and salt into a bowl.
2. Make a well in the centre of the dry ingredients and stir in the cheese and spring onions or scallions, then add the buttermilk.
3. Using a large spoon, mix gently and quickly until you have achieved a nice soft dough.
4. Add a little bit more buttermilk if necessary until the dough binds together without being sloppy.
5. Knead the dough very lightly on a lightly floured surface and then shape into a round that is roughly 6in (15cm).
6. Place on a non-stick baking sheet and cut a deep cross in the top.
7. Bake for 15 minutes, then reduce the temperature to 400°F (200°C), Gas mark 6 and bake for another 20-25 minutes or until the loaf is evenly golden and crusty. It should sound hollow when tapped on the bottom.
8. Transfer the cooked soda bread to a wire rack and leave to cool for about 20 minutes.
9. This bread is best eaten while it is still warm. To serve, place the soda bread on a breadboard and cut into slices at the table.
Brown Soda Bread
Use about three-quarters plain flour to one quarter coarse stoneground wholemeal and add two tablespoons of pinhead oatmeal to the mix before adding the buttermilk.
Source: Kerrygold