This cake is a very special treat and is great for all manner of occasions. If you are going to treat yourself you might as well do it properly and go for pure indulgence. It has good keeping properties so can be made the day before, just make the frosting when you need it.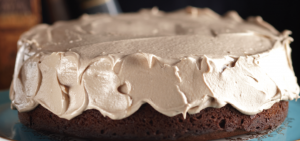 Ingredients:
10 tbsp (5oz) Kerrygold Salted Butter, at room temperature, extra for greasing
1 cup (4oz) dark or milk chocolate drops
1 cup (7oz) caster sugar
3 large eggs, beaten
1 tsp vanilla extract
1 1/3 cups (8oz) plain flour
1 tsp baking powder
½ tsp bicarbonate of soda
2 tbsp cocoa powder
1 cup (8fl oz) sour cream
For the frosting:
3 cups (12oz) dark or milk chocolate drops
2½ cups (1lb 2 oz) icing sugar, sifted
1 tsp vanilla extract
1 cup (8fl oz) (225ml) milk
16 tbsp (8oz) Kerrygold Salted Butter, at room temperature

Method:
1. Preheat the oven to 350°F (180°C), Gas mark 4. Grease 3 x 8in (20cm) sandwich tins and line with circles of greased parchment paper.
2. Melt the chocolate in a bowl over a pan of simmering water. Leave to cool slightly.
3. To make the cake, cream together the butter and sugar with an electric hand-held mixer until pale and fluffy.
4. Gradually add the eggs, mixing well after each addition. Fold in the melted chocolate with the vanilla extract until smooth.
5. In a separate bowl, sift the flour, baking powder, bicarbonate of soda and cooca powder.
6. Fold the dry ingredients into the creamed mixture in alternative batches with the sour cream.
7. Divide among the prepared tins; level with a palette knife and bake for about 25 minutes until the cakes are springy to the touch and a skewer inserted into the middle comes out clean.
8. Leave to cool in the tins for 5 minutes, then turn out onto wire racks to cool completely.
9. To make the frosting; melt the chocolate as before. In a separate bowl, whisk the icing sugar, vanilla and milk until smooth. Add the melted chocolate and butter and mix to combine. Set aside for about 30 minutes to thicken slightly.
10. To serve, place one of the cakes on a cake stand and spread with a little of the frosting. Cover with another layer of cake and more frosting. Top with the remaining cake and lightly press all the cake layers together. Use a palette knife to spread the remaining frosting around the sides and top of the cake.
Source: Kerrygold