Shortbread cookies have long been a staple of Irish baking and has always been a timeless classic. All you need is a few quality dry ingredients and some grass-fed cow's milk Irish butter and you've got the makings of a dessert the Irish have been making for centuries.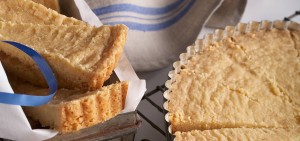 Ingredients:
1 1/4 cups unbleached all-purpose flour
1/2 cup cornstarch
1/4 teaspoon salt
1/2 cup granulated sugar
8 ounces (1 cup) cold Kerrygold Unsalted Butter, cut into 3/4-inch pieces*
1 teaspoon vanilla extract
Method:
1. Heat the oven to 300° F. Have ready a 9-inch tart pan with a removable bottom.
2. Sift the flour, cornstarch and salt into the large bowl of an electric mixer.
3. Add the sugar and mix on low speed just to blend the ingredients, 15 seconds.
4. With the mixer running add the Kerrygold Pure Irish Butter pieces and continue mixing until crumbs form and there is no loose flour, about 2 minutes.
5. Add the vanilla, mixing until large clumps form that pull away from the side of the bowl, about 15 seconds.
6. Transfer the dough to the tart pan. Use the palm of your hand to press the dough evenly into the pan.
7. Use a thin metal spatula to smooth the top. The dough will be 1/2 inch thick. Use a fork to prick the dough at 2-inch intervals.
8. Use a small sharp knife to mark 12 even wedge-shaped cookies.
9. Bake the cookies until the top is light golden, about 1 hour.
10. Immediately use a small sharp knife to cut completely through the marked wedges.
11. ool the shortbread thoroughly in the pan. Remove the sides of the pan and separate the cookies.
12. The cookies can be stored in a tightly covered container for up to 1 week.
* If using Kerrygold Salted Butter, reduce the salt to 1/8 teaspoon.
VARIATIONS: This butter shortbread lends itself to many variations:
Sprinkle one to two tablespoons of sugar or colored sugar over the top of the dough before baking. Dust confectioner's sugar over the cooled cookies. Press pecan halves into the dough in the pan to form a nut border before baking. Make a thin glaze from confectioner's sugar and cream and drizzle it over the cooled shortbread. Serve wedges of this shortbread topped with whipped cream and fresh berries.
Source: Kerrygold