Bakewell Tart ~ Most of us have eaten it, but not so many of us have made this delicious afternoon tea treat, so why not give it a go today?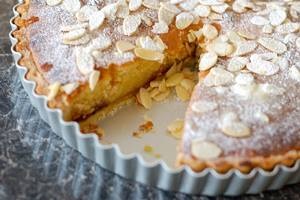 Ingredients:
Pastry:
175g/6oz Odlums Cream Plain Flour
125g/4oz Butter
1 Tablespoon Caster Sugar
Cold Water (about 6 to 7 tablespoons)
Filling:
Raspberry Jam
25g/1oz Odlums Cream Plain Flour
75g/3oz Butter
75g/3oz Caster Sugar
Few drops Almond Essence
2 Eggs
100g Packet Ground Almonds
25g/1oz Ground Rice (if you don't have this use an extra 25g/1oz Cream Plain Flour)
For Dusting:
Icing Sugar
Method:
1.Preheat oven to 190°C/375°F/Gas 5. Lightly grease a 20-23cms / 8″-9″ flan dish or tin or ring. A Swiss Roll tin 28cms x 18cms (11″ x 7″) may also be used!
2.To make pastry: Sieve flour and sugar into a bowl. Rub in the butter, then add sufficient water to make a soft dough.
3.Transfer the dough to a floured surface and lightly knead, roll out and use to line the tin.
4.Spread bottom of pastry with the jam.
5.For filling: Beat butter, sugar and almond essence together until soft, then beat in the eggs and flour.
6.Finally, mix in the almonds and ground rice, then, spoon over the jam. Use any pastry trimmings to make a design on top.
7.Bake for about 30/40 minutes until the filling is firm. Cool slightly, remove from the tin and sift the icing sugar on top.
8.Serve with custard or crème fraiche.
Recipe Notes:
25g/1oz Flaked Almonds may be scattered over filling before baking if liked.